Wednesday 25th October – Sunday 29th October 2023
Hebden Bridge, Yorkshire
We're back for the second edition of Trick or Retreat!
---
What's this?
A few days of hanging out with gamesy folks doing things like hiking, playing board games, and generally having a nice time!
Dates
Starts: 4pm, Wednesday 25th October 2023
Ends: 11am, Sunday 29th October 2023
Ticket types
Standard tickets: £150 (includes meals and hostel accommodation)
Visitor tickets: £25 / day or £75 for the whole event (no meals/accommodation)
Location
Scroll down for more information about Trick or Retreat 2023!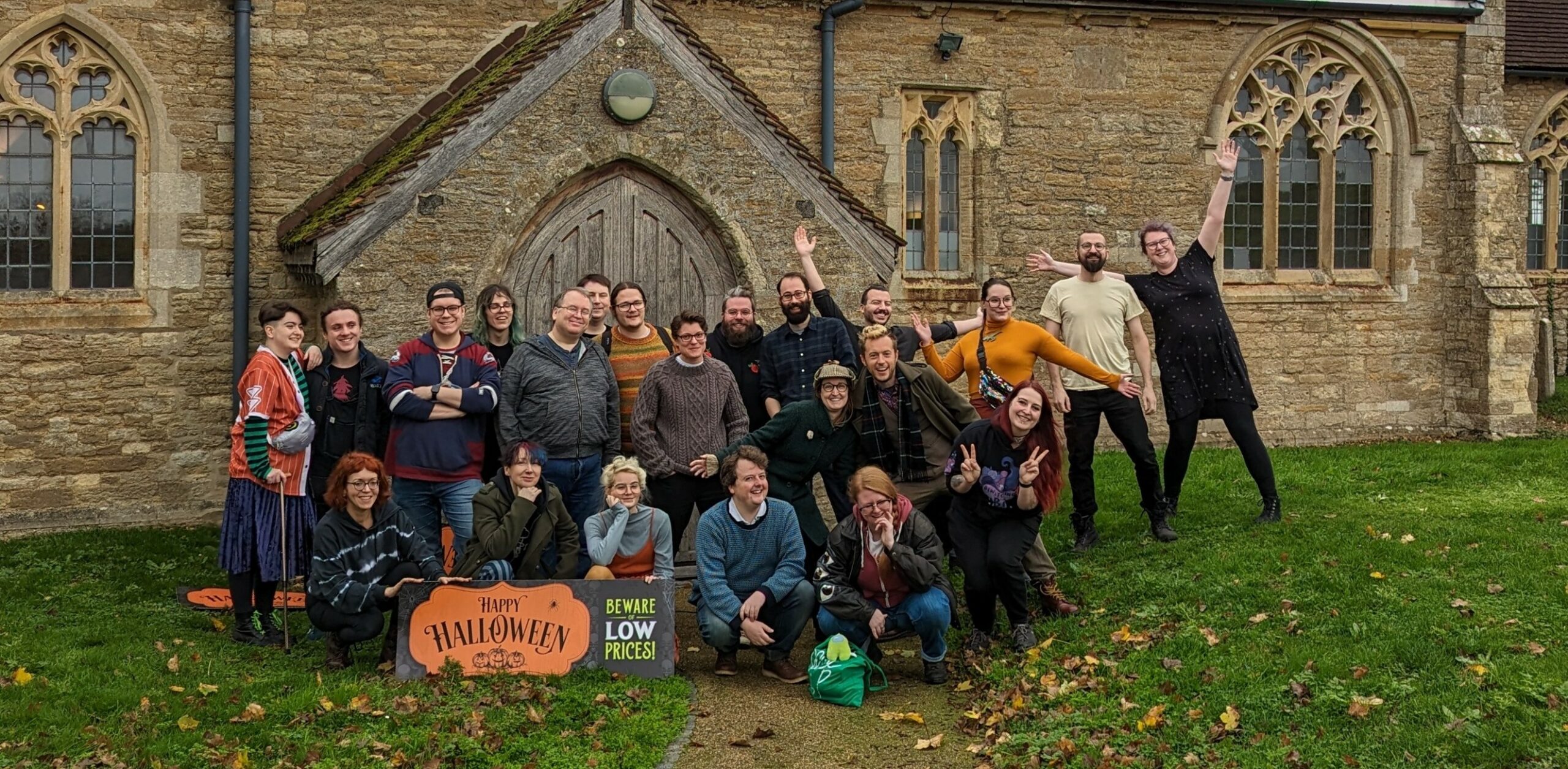 ---
Event Guide / FAQ
---
What sort of stuff will we do?
This is going to be very unstructured and mainly about hanging out with nice people in a nice place. It is definitely not a conference, expo, or festival.
We'll provide all the main meals, one-page RPGs, a zine library, and a big stack of boardgames. The emphasis may be on the boardgames, to be honest—last year people brought so many that we had more than 4 games per attendee….
Other things that may happen:
Fancy dress
Halloween movies (probably classic monster movies)
Spooky disco
Pumpkin carving
Firepit, sparklers
Weird arts and crafts (carving skulls from root veg, haunted corn dollies, troubling mask-making, that sort of thing)
We'll try to set up a screen somewhere with a Switch dock for Mario Kart and suchlike.
Ticket holders are welcome to make suggestions for other activities that they'd like to run.
Last year we had a petting zoo pop by for a couple of hours—we'll see if we can find another one!
The space around the venue is also lovely, with woodland and countryside nearby that are good for walks. It'll be October, though, so you'll probably need a waterproof.
Hebden Bridge is also quite nice to visit, and has a variety of shops, cafés, and restaurants if you fancy heading out for a bit. You're not obliged to spend all your time at the venues!

Some pictures from Trick or Retreat 2022!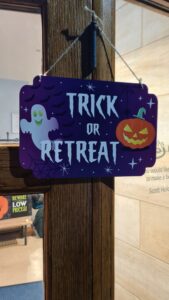 When is this event running?
Trick or Retreat will run from 4pm on Wednesday 25th October 2023 to 11am on Sunday 29th October 2023.
Residential tickets cover the whole event but there are single day tickets if you just want to drop in for a few hours.

Where?
This year's venue will likely be familiar to many of you—we're occupying the Hebden Bridge Hostel and some of the Birchcliffe Centre!
For those of you familiar with it, the Hostel was totally refurbished last year. It's now larger and modernised, with over a dozen bedrooms, a roomy kitchen, a large space with tables, and a cosy snug (with wood-burner). Here are some pictures from their website: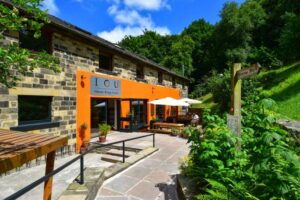 For parts of the event we will also have access to the adjacent Birchcliffe Centre, which will give us more space for games and activities. Unfortunately it's not available on weekday daytimes while wer'e there.
On Thursday evening (5–11pm) we'll have use of the Birchcliffe Studio, and from 5pm Friday through to Saturday night we'll have use of the main Hall and Mezzanine .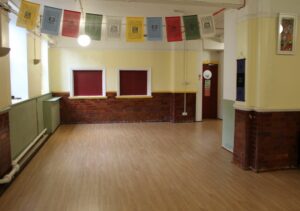 We may look into acquiring another space for weekday daytimes if we're looking a bit crowded nearer the time!

How do I get there?
The address for the venue is:
Hebden Bridge Hostel
The Birchcliffe Centre
Hebden Bridge
HX7 8DG
Be aware that the postcode will take you to Chapel Avenue on the left—ignore that and take the next left into Highfield, just after the Birchcliffe Centre (former Chapel).
The venue is accessible by public transport. The hostel is about half a mile (a ~15 minute walk) from Hebden Bridge train station, which is on the train line between Manchester and Leeds. Be aware that the hostel is up quite a long and steep hill from the station and town, so you may prefer to catch the 595 bus or a taxi up the hill if this is an issue for you.
If driving, please park in the Upper Car Park. The Hostel is located to the rear of The Birchcliffe Centre. From the Upper Car Park, take one of the paths on the left down the hill and find the Hostel at the back of the former Chapel. Disabled Parking is on the Lower Car Park with step free access directly down to the Hostel (please request a space when booking)

What if the event is cancelled or I have to cancel my ticket?
If you buy a ticket but the event is cancelled due to safety concerns or restrictions, I'll give you the option to defer it to next year (if Trick or Retreat is planned for 2024) or refund you if possible.
If the event goes ahead but you are personally unable to attend due to illness, I'll do my best to give you a refund. The same applies if you decide closer to the time that it is too unsafe to attend on the basis of current risk levels and your personal health.
Please be aware that any refunds may take time to issue and/or have to occur in stages. Trick or Retreat is not intended to generate any profit, and by the end of August non-refundable venue fees (amongst other things) will have been paid. As such, any refunds required from the beginning of September will probably be paid from my own pocket.
You are welcome to give/sell/exchange your ticket with somebody else if you so wish. That said, it's really not cool to sell any tickets you have for more than you paid for them.

What's the sleeping situation like?
Most of the beds are single quasi-bunk beds, with some beds at entry level and some on little mezzanines (rather than directly above the others) that are accessed by ladder. You'll be able to request an upper/lower 'bunk' when you order a ticket.
There are nine rooms containing 4 beds, and one room containing 6 beds.
All of these rooms contain a shower, toilet, hand basin, storage, plug socket with USB charger (we'll coordinate on bringing extension leads) and shaving socket. All beds come with pillows and linens but you'll need to bring your own towels.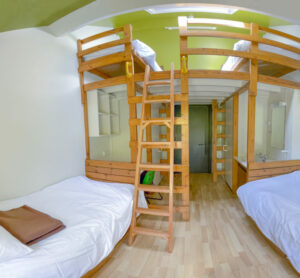 If you want to share a room with friends, we can try to arrange that. When you order a ticket you'll have the opportunity to list anyone you do/don't want to share with.
Rooms will very likely be mixed gender as default. If this doesn't work for you, leave a note in the associated box on the registration questionnaire.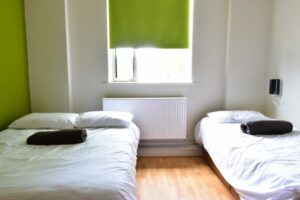 There are also two triple-occupancy rooms available. These can be booked for two or three people.
These rooms are semi-accessible and also come with linens and an ensuite shower/toilet. If you wish to book one of these rooms for sole occupancy on account of accessibility requirements, please let us know so that we can facilitate that.

For everyone's comfort, there will be a request for minimal noise in the bedrooms and main corridors after 10:30pm.

What will the food be like?
We haven't yet decided on the menu for 2023, but it will cater for vegans, dairy intolerances, and other dietary requirements as far as possible.
The actual menu will be circulated nearer the event, but to give you an idea of that the menu might look like, here's the 2022 menu:
Thursday Dinner: Veg Thai green curry, veg massaman curry, rice
Friday Breakfast: Cereal, toast (with jam, etc), overnight oats, porridge
Friday Lunch: Thai pumpkin soup, Red lentil, chickpea & chilli soup, bread rolls
Friday Dinner: Katsu curry sauce, pumpkin croquettes, rice with veg
Saturday Breakfast: Cereal, toast (with jam, etc), overnight oats, porridge
Saturday Lunch: Spiced coconut sweet potato soup, carrot & coriander soup, bread
Saturday Dinner: Satay sweet potato curry, Jerk sweet potato & black bean curry, rice
Sunday Breakfast: Cereal, toast (with jam, etc), overnight oats, porridge
We'll also supply tea and coffee. Maybe also popcorn.
As mentioned elsewhere, you'll have to bring your own alcohol and snacks.

What's the bathroom situation like?
Every bedroom has its own ensuite toilet and shower. There is also an accessible toilet on the ground floor, which will be gender-neutral.

How accessible is the space?
According to the hostel website:
The Hostel is fully accessible with a disabled car park and step free access to the Hostel door.
On the ground floor is an accessible toilet…
The triple-occupancy hostel rooms are listed as 'semi-accessible':
Private semi-accessible double/triple room with a double and a single bed and an ensuite shower room Suitable for couples, families, people with limited mobility or people with carers. Facilities include: 1 x double bed & 1 x single bed, ensuite shower, sink and toilet, plug socket with USB charger and shaving socket.
The Birchcliffe Centre, our adjacent space for Thursday evening, Friday eve, and Saturday night, is largely accessible with the exception of the mezzanine space:
The Auditorium is adjoined by the Mezzanine seminar room which can be used for breakeout workshops. The Auditorium is fully wheelchair accessible, with designated disabled parking.
The Studio has a private toilet and kitchenette, as well as flexible seating options. Wheelchair accessible with assistance via a stair lift.
If you have a question about accessibility, please message me and I'll do my best to help—DMs are open.

How big will the event be?
Pretty small as these things go. We
The cap on residential attendees is ~40 people to avoid overcrowding. There will be ~10 non-residential visitor tickets available on the weekdays, and ~20 on the Saturday when we have more space.
It's unlikely that there will be more than 50 people attending per day.

Will there be a safe space policy?
Yes. The safe space policy and code of conduct is available here and will be available in printed form at the venue. Attendees are required to commit to this policy when completing their ticket order.
Homophobic, racist, transphobic, ableist, sexist, or any otherwise prejudiced behaviours are not acceptable at Trick or Retreat. All attendees must treat one another with respect.
The organiser, Sarah Cole, reserves the right to, without refund, immediately eject anyone from the event who breaks the code of conduct. If an attendee breaks the code of conduct prior to the event (for example, in the event Discord), their ticket may be cancelled in advance of the the event beginning.

What about Covid?
I'm going to ask every attendee to take a Covid test just before they head to the venue, and remind people that they can test during the event as well.
If someone tests positive on arrival or during the event I'll ask them to leave and do my best to help them get home safely. We will immediately inform all other attendees and individuals can decide how they each want to proceed. In any case, we will then try to air and sanitise the venue as far as possible.
If someone with a ticket feels unwell or are concerned that they may be becoming unwell, I will ask that they don't attend. In these cases I will do my best to refund the cost of the ticket. I may not be able to refund tickets if people have to leave during the event because I'm running it pretty much at-cost but will see what I can do.
As organiser, if I personally become unwell in time for Trick and Retreat I'll discuss with attendees how best to proceed. Suffice to say, I'm going to try very hard not to become ill just before the event.
Attendees are very welcome to wear masks but I won't be insisting everyone does. In all honesty, I suspect wearing a mask throughout the event may not be terribly effective as a protection—there'll be 30+ of us hanging out in the same space for 4-5 days and we'll be sleeping in fairly close proximity. The venue is fairly roomy but any airborne particles will still get around. We can have some doors/windows open where possible, but the outdoor temperature will be 5–10 ºC and plausibly rainy so that may not prove practical.
Your health and safety are important to me, and I want you to be fully informed so that you can gauge whether you'll be comfortable with the level of risk involved in attending. I cancelled the event in 2020 and 2021 because I felt the risk to attendees was too high. Attendees were good about taking covid tests in 2022 and not attending if unwell; I'm not aware of anyone who became sick from attending Trick or Retreat 2022.
I'm open to questions and further suggestions—feel free to get in touch about either!

Will there be any quiet spaces or ways to opt out of things?
Yes, we will try to ensure there is always a quiet space where you can hang out if you need some peace and quiet. The snug, with its wood-burning stove, will likely be a dedicated quiet space during the event. We may also put the zine library in this space.
You are also not obliged or expected to participate in anything that may be happening. You can spend your days reading a book, playing a videogame, or wandering the local countryside by yourself if you want.
We will also have 'Ghosts' at the event. If you want to be left alone for a bit at any time during the event, pop a sheet over your head like a ghost. Attendees will be instructed to ignore ghosts as far as possible.
You will need to bring your own sheet to become a ghost, or else you can select the 'Ghost Add-on' when you buy your ticket(s) and I'll supply a nice new sheet when you arrive.

Who's running this?
Sarah Cole. Best known for… I don't know, helping at other events? I'm a Game and Narrative Designer, and Writer, I like to make tabletop games, I go to a lot of fringier games stuff in Brighton and London, and help out at a few things. If you like websites, here's mine.
In 2023 I'm being supported by a lovely little cabal of folks who attended in 2022 and offered to help out in the future. <3

Why are you doing this?
Late in 2019 I was feeling sad about the lack of opportunities to just hang out with large groups of gamesy friends. We're always trying to cram in conversation time at other events and that's never ideal. So I thought 'why not make an event about hanging out?' After the last couple of years, this sounds even more appealing.
Anyway, I thought it would be fun and nice and I like to bring people together.

Is Trick or Retreat connected with Feral Vector?
I can see why you'd be wondering about that—the events are now in the same venue, have a similar vibe, have an overlapping set of attendees…
Well, David Hayward (Director of Feral Vector) and I had a chat about it and we've decided to treat Trick or Retreat and Feral Vector as sister events!
Though the events aren't connected administratively and operate independently we've agreed to support one another wherever possible.
It's worth noting that Trick or Retreat is not just Winter Edition Feral Vector. Trick or Retreat very deliberately has no talks, no exhibition, and almost no scheduled activities—the aim is instead to provide an opportunity for folks to hang out without all the usual distractions of games events. That said, if you're a regular attendee of Feral Vector you may find the vibe of Trick or Retreat to be similarly relaxed and recognise a number of the attendees.

Do you need help?
Yes, though I'm not sure what just yet. I'd definitely need help with cooking and cleaning up during the event. Anyway, give me a shout if you want to get involved somehow.